For experienced users the choice of compound bow is down to personal preferences and in order to pick a right bow for your needs see the table below with a list of most crucial parameters of new bows. If you're not sure which bow is right for you, see the comprehensive guide below the table. Both seasoned bowhunters/archers and newbies will also find valuable information in the compound bow review section of this page. Just scroll down to see a compilation of most popular compound bows on the market.
| Image | Bow Model | IBO speed | draw weight | draw length | brace height | eccentrics | finish |
| --- | --- | --- | --- | --- | --- | --- | --- |
| | PSE Stinger 3G | 314 fps | 50, 60, 70 lbs | 25.5" - 30.5" | 7.75" | HP cam with posi-lock inner cam | Mossy Oak Break-Up Infinty, Skullworks Camo |
| | Bear Motive 6 | 350 fps | 50, 60, 70 lbs | 25.5" - 30" | 6" | H13 cam | Realtree APG, Realtree APS, Shadow, Red/Black, Green/Black |
| | Mathews Creed | 328 fps | 50, 60, 70 lbs | 26" - 30" | 7" | SimPlex Cam | Black, Lost Camo, Tactical |
| | PSE Prophecy | 340 fps | 50, 60, 70 lbs | 25" - 30" | 6" | AMP cam | Mossy Oak Break-Up Infinity, Skullworks, Black Camo and Black. |
| | Bowtech Experience | 335 fps | 50, 60, 70 lbs | 26.5" - 31" | 7" | OverDrive Binary Cams | Mossy Oak Infinity, BlackOps |
| | Hoyt Charger | 325 fps | 30 - 80 lbs | 27" - 30" | 6.75" | Hybrid Charger Cam & ½ | RealTree Xtra, RealTree MAX-1, Black Out, HALF AND HALF, Bone Collector, VICXEN, RealTree Snow, RealTree Pink |
| | Mathews Monster Chill R | 342 fps | 50, 60, 70 lbs | 23" - 30" | 6.125" | AVS DYAD cams | Black; Black tactical; Blue Ice; Lost Camo; Desert Tactical. |
How to choose the best compound bow?
When it comes to choosing a perfect bow one needs to consider several factors that will determine how the bow performs in a given situation. Therefore you should first decide if the bow is going to be primarily used for bow-hunting or shooting archery targets. You need to also take under consideration your dimensions and strength. Below you will find a list of most important parameters of compound bows along with their in-depth description and suggested values for a given application and level of expertise. This will help you to make an educated choice of a compound bow that suits your needs and physique. You may also find it helpful to glance at the most popular compound bows reviewed below.
Draw weight
Draw weight of a compound bow is the maximal power you need to pull the string when drawing the bow. The application of the cam/cams causes that that the most pulling power is needed halfway from the fully drawn position and decreases significantly once the bow is fully drawn. In order to be able to comfortably shoot an arrow several times in the row you need to pick a right draw weight for your strength. Unless you are unusually strong or weak person you should choose it according to the table below.
| Bowhunter | Draw weight of the bow |
| --- | --- |
| Small kids (70 - 100 lbs.) | 15 - 25 lbs. |
| Kids (100 - 130 lbs.) | 25 - 35 lbs. |
| Most woman (100 - 160 lbs.) | 30 - 40 lbs. |
| Strong teenage boys (130 - 150 lbs.) | 40 - 50 lbs. |
| Smaller men and large women | 45 - 55 lbs. |
| Most men (150 - 180 lbs) | 55 - 65 lbs. |
| Large men (above 180 lbs.) | 65 - 75 lbs. |
If your strength is above average for your body weight choose a 10 lbs. heavier draw weight.
Draw length
The length of your arms should determine the draw length of the compound bow. It is extremely important to use a bow with suitable draw length as compound bows MUST be shot only when fully drawn. In order to calculate appropriate draw length measure your wingspan by spreading your arms and having someone to measure the distance from the tips of your right hand fingers to the tips of your left hand fingers in inches. Just divide this number by 2.5 and you have the right draw length. Most top compound bows can be adjusted with regards to draw length.
Brace height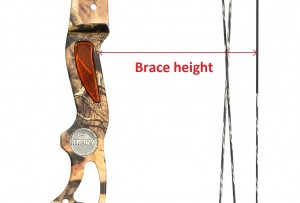 Brace height is measured once the bow is at rest and is defined as a distance between the bowstring and the grip of the bow. Modern compound bows have brace heights in the range 5.5″ to 9″ however the most popular models have it either 6″ or 7″. The powerstroke of the bow depends on this parameter and shorter brace height means longer powerstroke which in turn means more power and speed. However, the longer distance you need to draw the bowstring the more room for any flaws in your technique, resulting in missed shot. Therefore it is recommended for novice archers/bowhunters to stick with 7″ models.
Axle-to-axle length (A2A)
This is measured as a distance between the centers of the axles and expressed in inches. Generally bowhunters go for shorter bows as they are more portable and easier to use in the woods whereas competition archers use longer designs due to their accuracy. The rule of thumb is that that the longer the bow and the more it weights the more stable it is. For a novice bowhunter a safe range is between 32″ and 34″.
The let-off
This is an unique feature to compound bow and makes aiming much easier than with traditional bows. Due to application of specially shaped cams (or cam and wheel) the power needed use to draw a compound bow is increases until you reach a peak point. Than it dramatically decrease to reach its minimum once the bow is fully brawn so you can take your time to aim with minimal weight in your hand. The let of is expressed in per cents and most bows have it around 75%. This means that if a poundage of the bow is 60 lbs. once fully drawn this weight will be reduced by 75% leaving you with only 15 lbs. in your hand and making aiming much more comfortable.
Best compound bows on the market
There are a couple of models that score very high in any compound bow review. They all are praised for their quality and reliability. Some of these models offer extremely good price to quality ratio while others are typical high end (and high price tag) bows. See below a short description of these great compounds.
Short reviews of popular compound bows
PSE Stinger 3G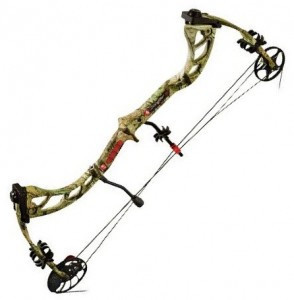 For many bowhunters Stinger was a first bow. It is often recommended for beginners due to its forgiveness. Stinger makes it possible to get into this sport with really low initial costs as the price tag of $299 for such a quality bow is just unique on the market. More about this great bow – >>>here<<<
>Check discounted price of Stinger 3G on Amazon<
PSE Prophecy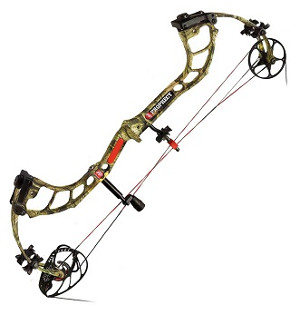 The fastest single-cam compound bow. Thanks to incredible efficiency of X-Technology limbs and strong Planar Flex riser PSE Prophecy will satisfy hunters requiring fast rigs and impress those who seek comfort and simplicity of a single-cam designs. It's a mid-range priced, quiet and lightweight compound. Learn more about this wonderful compound bow by reading our review – >>>here<<<
>Check discounted price of PSE Prophecy on Amazon<
Mathews Creed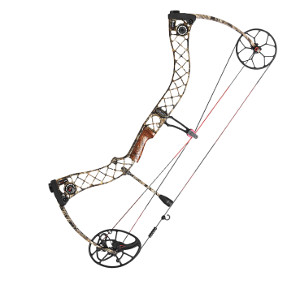 The ascetically designed Mathews Creed is a short compound yet still providing generous 328 fps speeds. Utilizing SimPlex Cam technology it offers a very smooth draw cycle which combined with its low weight earned it lots of happy users. Mathews Creed is a successor of a hugely popular Z7 model and according to many reviews it has a chance to be equally famous. More about this great compound bow in our review – >>>here<<<
Diamond Infinite Edge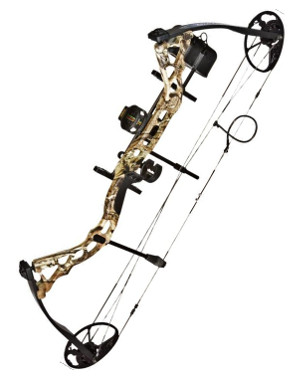 This is a unique example of a compound bow that can serve both a 5-year old and a grown man hunting a big game animal. The adjustability of Infinite Edge in just breathtaking, its draw length range is 13″ to 30″ and the draw weight can be set between 5 and 70 lbs. This bow would literally suit everyone. It has remarkably smooth draw cycle and thanks to its unique design it's very quiet. The bow is extremely popular due to its quality, adjustability and extraordinarily low price. For our review of this compound bow click here.