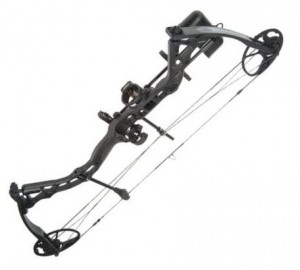 Diamond claims that their Infinite Edge bow is so awesome and versatile that you will never have to look for another bow and if you look at the specs it's hard to disagree. The draw length range is of 13 to 30 inches is nothing by amazing. Similarly the the draw weight can be adjusted in an unseen in other bows range of 5 to 70 pounds. This bow is fast, light and has unparalleled adjustability. Customer reviews of Diamond Infinite Edge indicate that it has it's fans among both advanced and novice archers. It's often referred as "all in one package" as what you get is a bow that would suit any bow hunter or archer regardless of age, sex, strength or armspan. What is even more amazing all the adjustments can be done at home, without a bow press, by using just two wrenches and you wont need to order any additional modules. With Infinite Edge you can't go wrong.
>Check discounted price of Infinite Edge bow on Amazon<
Riser
The riser of Infinite Edge is ultra light due to cut outs and lightweight aluminium used for its production. Modules can be easily replaced thanks to holes located in standardized locations.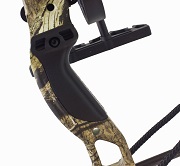 This bow comes with a black thin grip made from a durable, hard rubber. It enforces proper hand placement no matter how small or big your hand is. Thanks to its texture it does not twist and stays firmly in the hand and due to material used does not feel cold even in low temperatures. The thin shape of the grip and a hard material used prevent torque during the draw.
The riser is also equipped with string stop which is extremely efficient with reducing vibrations.
Cams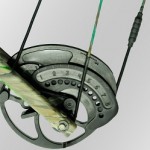 The shape of the cams enables for a smooth draw cycle of this bow. It also stands behind a standard 75% let off. The rotating modules in the cams that enable instant tuning of the draw length and the range of this adjustment is what makes this compound stand out. All you need to do to change it is: remove the screws, rotate the modules and put the screws back. A great feature of this cams is an infinite draw length setting. This makes Infinite Edge a great choice for schools or other organizations where the bow is shot by multiple users without the need of changing settings. Thanks to this particular feature this bow can also be used for bow fishing as you can snap shot with it quite easily.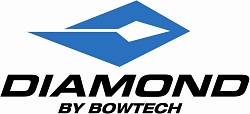 Diamond archery is a sister company to Bowtech. The first specialize in bows with binary cams whereas the latter produces single cam bows. Diamond archery specializes in production of highest quality compound bows and is a leader in terms of new technologies and popularity among archers and bow hunters around the world.
Limbs
Diamond Infinite Edge comes with solid style limbs which are parallel to each other. This positioning of the limbs eliminates hand-shock and in this model the efficiency of it is so high that apart from string stop no other vibration cancelling mechanisms were not applied. The limbs in all finish options are black in color with white DIAMOND logo on it.
Finish
There are three finish options available:
BlackOps;
Mossy Oak Infinity;
Pink Blaze.
Vibration and noise reduction
Apart from string stop the bow has no other noise reductions mechanisms which are not needed in this bow. Hand shock is completely eliminated by the parallel positioning of the limbs and effectiveness of the string stop in cancelling the oscillations of the string prevent any noise.
Content of the package
Infinite Edge Bow
Octane DeadLock Lite Quiver – ultra light quiver with five arrows capacity, easy to use quick-detach mechanism and a tree hanger hook;
3-Pin Apex Sight – a light and durable sight made of composite materials, contains a TruGlo fiber-optic steel pins;
Hostage XL Arrow Rest – a simple and durable design with no mechanical parts;
Tube Peep Sight
BCY String Loop
Applications of Diamond Infinite Edge
perfect choice for a youth archer as the it can be easily adjusted as they grow. Infinite Edge is also highly praised and recommended for archers that had a longer break as it is easier to come back to this sport with bow that has low draw weight and increase it as the muscular memory comes back.
Changing string in the field
Even for an advanced bow hunter it may sound unrealistic but thanks to enormous adjustability of this bow it can be tuned down so much that the string effectively goes limb. This allow for changing the string in the field by using just a hex wrench. Within minutes you can have the bow with a new string and set to 70 pounds draw weight which is plenty even for a big game animals.
pros:
huge adjustability;
price;
quality of finish;
infinite draw length setting;
cons:
In some customer reviews users indicated that the default sight does not meet their personal preferences and decided to replace it. The most common choice for an alternative sight for Infinite Edge was the TruGlo 5-pin sight.
>Check discounted price of Infinite Edge bow on Amazon<
Diamond Infinite Edge specyfications
| | |
| --- | --- |
| IBO speed (fps) | 310 |
| A2A length (inches) | 31 |
| draw weights available (lbs) | 5 - 70 |
| draw length range (inches) | 13 - 30 |
| brace height (inches) | 7 |
| bow weight (lbs) | 3,1 |
| eccentrics | modular, double cam |
| let off (%) | 75 |
| finish | BlackOps; Mossy Oak Infinity; Pink Blaze |