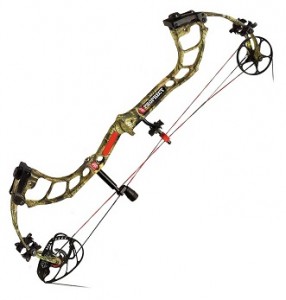 PSE Prophecy gained its popularity by being the fastest single-cam compound bow on the market. This rig offers unparalleled smooth draw for a bow that produces 340 fps IBO speed. It's definitely a great choice for those who are looking for a fast compound bow but also appreciate the reliability of simple designs. The neutral 32″ AtA length makes this bow universal. This bow has been reviewed by both advanced users as well as people with very little experience and both groups found it extraordinary. For our review of PSE Prophecy see the article below, specifications of the bow are at the bottom of the page.
>Check discounted price of PSE Prophecy on Amazon<
Riser
PSE Prophecy comes with a riser technology reserved for high end models. The planar flex riser reduces both sideways as well as front to back torque increasing the accuracy of the bow. It was achieved by application not only high tech materials but also a specific architecture based on straight lines. This structural changes were introduced in order to maximize the precision of this rig. It is difficult to spot with a naked eye but the effect of this changes is appreciated by anyone who shot this bow – the accuracy is nothing but amazing.
Depending on your preference you will be able to mount your preferred sight with no problems as the riser of this bow is equipped with several holes for your convenience.
Another feature of the riser aimed at increasing accuracy is the Raptor grip that forces proper hand hand placement. It's thinner than average grip but comfortable in use. Both sides of the grip include small rubber plates that can be either black or red.
Cam
The AMP cam enables the bow to shoot at 340 fps, which is impressive for a single cam rig. As all PSE cams it provide an extremely smooth draw and thanks to its unique design enforces a perfect nock travel. It it extremely durable and lightweight. For additional efficiency the cam was equipped with sealed bearings and wide grooves preventing the string from derailing. The inner cam is easily adjustable (range: 25-30 inches, increments: half-inch). You wont need a bow press or any special equipment for the adjustment. The cam has engraved markings and posi-lock pin to make it even easier if needed.
Limbs
The PSE's new, ground-breaking X-Technology enabled to cross the barrier of 330 fts with single-cam rig. These split limbs sit tight in pivoting limb pockets enabling easy draw weight adjustment whilst keeping the perfect limb to riser adjustment. The limbs are pre-stressed and parallel to each other which eliminate limb vibrations and after-shot kick.
Finish of the bow
As all bows by PSE this model features high standard of finish. There are no issues with longevity or uneven wear. PSE Prophecy comes in four different versions: Mossy Oak Break-Up Infinity, Skullworks, Black Camo and Black. As with all PSE bows the materials are of highest quality which makes them durable and elegant.
Vibration and noise reduction
To minimize vibration and noise the split limbs sit tight in Brute X pivoting limb pockets. Limb vibrations are also dampened by Vibracheck limb band dampeners that are included in the package and can be changed without a need of a bowpress. The string oscillation is captured by adjustable Vibracheck Backstop 2 to eliminate noise.
Video review of the the PSE prophecy
>Check discounted price of PSE Prophecy on Amazon<
PSE Prophecy specyfications
| | |
| --- | --- |
| IBO speed (fps) | 340 |
| A2A length (inches) | 32 |
| draw weights available (lbs) | 50, 60, 70 |
| draw length range (inches) | 25 - 30 |
| brace height (inches) | 6 |
| bow weight (lbs) | 4.1 |
| eccentrics | AMP cam |
| let off (%) | 75 |
| finish | Mossy Oak Break-Up Infinity, Skullworks, Black Camo and Black. |