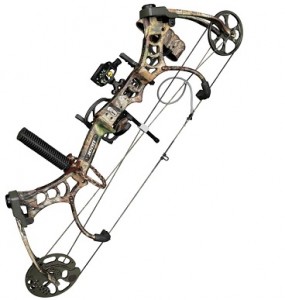 Bear Legion would be an excellent choice for someone seeking a compact, high quality and fast rig. The surprisingly low price tag has made this bow very popular among advanced users who are on the budget but don't want to compromise on performance. It has been highly praised by users that shot it in variety of situations. Legion is proven to perform well both in the hunting scenarios and while you practice target shooting. Bear's quality noise and vibration reduction mechanisms have made this bow virtually silent and eliminated any hank shock. Over 60 years of experience enabled Bear to produce a bow that impresses even the pros with it smoothness and reliability. At the same time Bear Legion is so forgiving and easy to adjust that even beginners can use it. This compound scores high in customer reviews for its performance, smoothness and lack of after shot vibrations. The weak point according to some users and their personal preference is the string which is by no means inferior quality.
>Check discounted price of Bear Legion on Amazon<
Riser
Legion's riser has a classic for Bear archery bows shape with large cutouts. It features integrated dual string suppressors and a stainless steel stabilizer mounting. The aircraft grade aluminum riser despite its low weight stands out in terms of rigidity resulting in high torsional stability.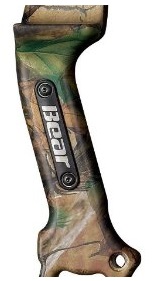 Bear Legion comes with thin grip with side plates known from other Bear's rigs. It has ergonomic shape and enforces proper hand placement. Most users appreciate the stability and lack of torque it offers, however its ascetic construction offers no thermal insulation hence if you're planning to use in the winter gloves will be necessary.
The grip has a screwed in plates with white Bear logo on a black background.
Limbs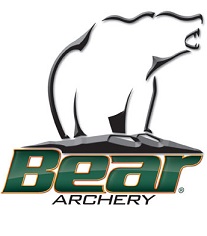 Bear Legion comes with split limbs positioned parallelly to nullify hand kick. They are made of extensible composite materials which makes them powerful, lightweight and durable. The shape and materials of Legions pre-loaded limbs enable uniform force distribution during the draw cycle and eliminates deflection.
Legion's limbs are locked in place by Bear's renowned Zero Tolerance Limb Pockets. This system not only provide ideal consistency and precision but also absorbs after shot vibrations.
Eccentric System (Cam)
Legion is a single cam bow and thus requires minimal maintenance and eliminates the necessity of cam synchronization. Bear Archery equipped it with a Modular E2-Cam. It allows for half inch increments in the rage of 26″ to 31″. The adjustment can be done with hex key (not included in the package) and a bow press is not required to do so. The idler wheel has a dual stainless steel sealed bearings which increase smoothness of operation and provide reliability. E2-Cam eccentrics provide generous 318 fps IBO speeds and thanks to their shape the draw cycle is smooth. This combined with 80% let-off and a solid back wall makes the bow very comfortable in use.
Finish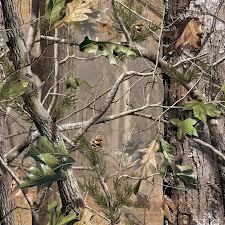 Legion comes in a light and neutrally toned Realtree APG camo pattern. The coating is high quality and quite thick which ensures durability.
Vibration and noise reduction
Dual offset string suppressors mounted on the riser deaden string oscillations and eliminate noise. They were designed, optimized and meticulously tested using high-speed photography methods to ensure highest effectiveness in noise reduction with no compromise on the arrow speed. There is also an adjustment mechanism so you can tuned is according to your preferences.
The after shoot limb vibration and hand kick were eliminated by application of parallel positioned limbs and Zero Tolerance Two-Piece pockets.
If you buy Legion with Ready To Hunt Package you will also get a Shockstop stabilizer by Trophy Ridge that efficiently absorbs any residual vibrations.
Ready to hunt package
This package include a set of Trophy Ridge accessories, such as:
Whisker Biscuit – black in color with brown fibers;
3-Pin Sight – can be easily adjusted for right or left hand use;
Stabilizer with Sling;
Wheel Peep Sight;
Quiver;
Nock Loop.
Review summary
Pros:
Good price to quality ratio;
High quality finish;
Easy to adjust.
Cons: