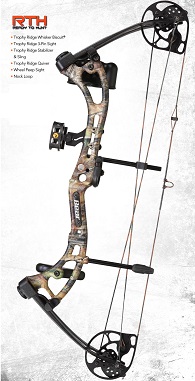 Bear Apprentice 3 is the newest version of the famous Apprentice series. It's light and overwhelmingly adjustable. With a huge range of draw length and draw weight it can perfectly serve 5 year old and a 15 year old. It will definitely not be outgrown quickly and high quality finish will make it last for years. The bow is also a high performer being able to shoot at 265 fps IBO speed. Comfortable wide valley and smooth draw cycle makes it a perfect bow for beginners. Apprentice 3 scores high in most customer reviews for the new, modular cam that enables quick and easy adjustments of the draw length. Thanks to the above features and a very affordable price Apprentice 3 has become one of the most popular bows among youth archers and beginners.
>Check discounted price of Bear Apprentice 3 on Amazon<
Riser
To keep the weight down without compromising on the strength the riser is made of machined aluminium alloy. It has a modern shape with large cutouts to further reduce the weight. A string suppression system is mounted on the front of the riser, below the grip. There is also a cable guard on the front of the riser.
The grip is slim to eliminate hand torque and enable comfortable operation for users with small palms. Its shape promotes proper hand position thus enhancing accuracy. It features black plates with white Bear logo on its sides.
Limbs of the Apprentice 3
Bear Apprentice 3 comes with famous Flared Quad Limbs. They are optimised for efficient energy storing. The construction and position of the limbs reduces vibration and their positioning eliminates hand shock.
The limbs are secured in place with Bear's renowned Zero Tolerance Limb Pocket system. It ensures consistency and precision thus promoting accuracy. The pivoting pockets also help minimizing vibrations after the shot.
Eccentric System (Cams)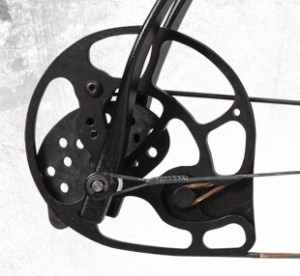 Bear Apprentice 3 features the G3 cams. A third generation of a high quality, lightweight and and durable cams that makes this bow extremely smooth and provide enormous power if needed. This optimized rotating module design allows for draw length adjustments in the range of 15″ to 27″ in 1″ increments and draw weight adjustments ranging from 15lbs. up to 60 lbs. The let-off of this bow is 70% which enables comfortable aiming.
Finish
This compound bow comes in two finish options:
Realtree APG camo pattern which melts into many different environments such as hardwoods, pine thickets, prairies, river bottoms and others. It's an ideal turkey hunting camo.
Realtree AP Snow PINK.
The camo pattern covers the riser whereas limbs, cams and accessories are black.
Vibration and Noise Reduction
The string suppression system mounted below the grip captures any string oscillations and prevent noise. Vibrations are also minimized by the structure of the Zero Tolerance Limb Pockets.
Content of the Package
The Apprentice 3 is sold as a complete ready-to-hunt bow package. It contains:
Compound bow;
Trophy Ridge Whisker Biscuit (black with brown whiskers);
Trophy Ridge 3 pin fibre optic bow sight (black);
Trophy Ridge quiver for four arrows (black);
Wheel Peep Sight;
Nock loop;
Printed manual;
Warranty card.
Summary of the review
Pros:
great adjustment range of both draw length and draw weight;
low price for the complete package;
plenty of accessories included in the package;
smooth draw cycle with wide valley.
Cons:
only two finish options available.
>Check discounted price of Bear Apprentice 3 on Amazon<
Video review of the Apprentice 3 bow: