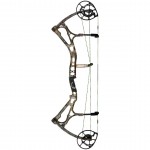 The new killing machine from Bear in full of contradictions. It's amazingly fast and still thanks to double string silencers extremely quiet. The new cam system helps to accumulate huge amounts of energy during the draw but also makes the draw surprisingly smooth. If you're after a high end bow offering top speed and packed with state of the art technology Bear Motive 6 is the one to consider.
>Check discounted price of Bear Motive 6 on Amazon<
Riser
The riser in Motive 6 is all about ergonomics and performance. Modern and expressive design was combined with stress resistant shape. It features integrated dual string suppressors positioned directly opposite accessories mountings which helps to keep the bow perfectly balanced.
Motive 6 comes with two grips. The default one is a very comfortable rubber grip with Bear logo overmolded on it. The second one can be uncovered by unscrewing the default grip. It is machined in the riser in the way that enables steady and dependable grip even in the most aggressive setup.
On the riser is also mounted a 4×4 roller guard with four rolls on two sealed bearings each. This aluminium guarded solution facilitates neutral position of the cables once the bow is fully drawn and thus reduces torque.
Limbs
The Max Pre-Load Quad limbs used in Motive 6 reach a past-parallel position once the bow is fully drawn. Being made from Gordon Composite material they are design to store enormous amounts of energy. For smooth and vibration free release of this energy Bear used Zero Tolerance Limb Pockets which keep the limbs tight in the pockets.
Cams
The new H13 Synchronized Hybrid cam system with two elliptical cams was designed to make the most of this rig. Thanks to rotating modules in the cams the draw length can be easily adjusted in the range between 25.5″ and 30″ (in half inch increments). To adjust the draw length no bow press or modules are needed.
Finish
Bear offers new Motive 6 owners plethora of finish options to choose from. Namely the finish options are:
Realtree APG,
Realtree APS,
Shadow,
Red/Black,
Green/Black.
Vibration and noise reduction
Dual Offset String Suppressors were used to eliminate any vibration and noise of the pre-stretched Contraband HP string after the shot. The suppressors are adjustable and it's worth spending some time looking for your perfect settings.
For limb vibration reduction the new Zero Tolerance Two-Piece pockets were used. They prevent any movement of the limbs in the pocket which reduces vibrations.
Post-parallel position of the limbs is also a huge factor in overall vibration characteristic of this bow. The forces of upper and lower limb cancel out which prevents kicking effect and makes using Bear 6 even more pleasant.
Bear Motive 6 specyfications
| | |
| --- | --- |
| IBO speed (fps) | 350 |
| A2A length (inches) | 32 |
| draw weights available (lbs) | 50, 60, 70 |
| draw length range (inches) | 25.5 - 30 |
| brace height (inches) | 6 |
| bow weight (lbs) | 4 |
| eccentrics | H13 cam |
| let off (%) | 75 |
| finish | Realtree APG, Realtree APS, Shadow, Red/Black, Green/Black |